---
WING 9 (FN-FW09-20)
92mm Gamer Fan
The WING case fans are premium quality, UV reactive, ultra- quiet, dust and water proof cooling fans for gaming enthusiasts.This series features an unique bearing with patented design, winglet fans blades and low starting voltage. Only the highest quality materials have been used to manufacture this state-of-the-art cooling fan. Control the fan RPM speed according to your desire using the supplied voltage regulator. To add to the silence fan mounts replace traditional screws and are made of high quality, ultra-soft silicone which stop vibrations from the fan motor from travelling into your PC case.
Nanoflux Bearing (NFB)
Patented Nanoflux bearing incorporates a clever magnetic design, very high precision manufacturing and runs friction-free and operates noiseless. Electromagnetic fields are exploited to keep solid parts from touching. The load is carried by a magnetic field.
a) Key Features of Nanoflux Bearing (NFB)
The Nano-technology composite ensures lowest abrasion and extreme durability (MTTF 100'000 hours). Compared to other Magnetic bearings this technology allows the impeller to be detached and thus the fan blades can be cleaned easily.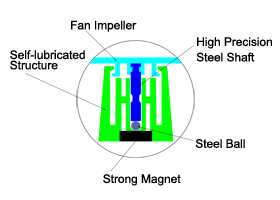 Caption: The material of the Nanoflux bearinge is self lubricating and even waterproof.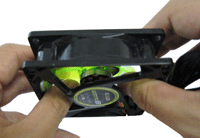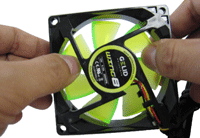 Caption: The fan impeller can be removed from the black fan case by applying gentle pressure.
b) Nanoflux Bearing (NFB) compared to sleeve and ball bearings
Even though conventional sleeve and ball bearings currently dominate the fan market however both have their disadvantages. While sleeve bearings have very low noise emissions and are very cost effective, they tend to leak oil; once the oil has dissipated the fan can no longer operate. Ball bearings, on the other hand, while providing longer operating life are costlier, noisier and are prone to damage.
GELID's Nanoflux bearing uses magnetic flux to limit contact and friction between the bearing and the shaft. High precision self-lubricated material eliminates oil leakage. The result is a ultra quiet long life bearing.
 
Fan Speed Control
The RPM speed of any fan can be controlled from full speed to low speed manually according to desire using this voltage regulator. This product is suitable for all high RPM fans and regulates between 5 and 12V. (Can be purchased separately)
 
Rubber Fan Mounts
Vibration from fan motors can travel into a PC case and become amplified when a fan is fitted tightly. This 'vibrational' noise is annoying if you wish to build a very quiet or virtually silent PC.
These rubber mounts have been designed specifically to deal with fan-induced vibrations and are an ideal alternative to standard fan screws, leaving vibrations 100% decoupled from your PC case.
Features
Nanoflux Bearing (NFB)             
Optimized Winglet Fan Blades         
Waterproof & Dustproof              
Long Lifetime (100'000 h MTTF at 40°C)

High quality materials insures long life even at high temperature

Ultra-soft silicone polymer will not break or tear during installation

Universal-Design fits most open chassis fan sizes (80mm,92mm,120mm) and PC cases

Quick & Easy Tool Less Installation
Specifications:
| | |
| --- | --- |
| *INCLUDED: | 4 Fan Mounts, Fan Speed Control |
| Air Flow (CFM): | 39.8 |
| Bearing: | Nanoflux Bearing (NFB) |
| Cable Length (mm): | 500 |
| Connector: | 3 Pin Molex |
| Current (A): | 0.14 |
| Dimensions (mm): | 92 x 92 x 25 |
| Fan Speed (RPM): | 2000 |
| Noise Level (dBA): | 11 - 22.5 |
| Safety Approvals: | CE, RoHS Compliant |
| Static Pressure (mmAq): | 2.15 |
| Voltage (V): | 12 |
| Warranty (years): | 5 |
| Weight (g): | 75 |
Awards:
 

"These products from GELID Solutions are very nice add ons in your PCs interior. If you're looking for added cooling for your, PC give these cooling solutions a look. The thermal pastes nicely cooled down our CPU while the Wing fans cooled our case's interior. The fans were also very silent, even when you set it at the maximum settings. We give both the GELID Solutions Wing Fans, the GC-2 and the GC-Extreme a score of 9 out of 10 and our recommendation."

July / 2009: Computer Power User

"If you are looking for a 120mm case fan to cool your components, GELID Solutions WING series may be tour perfect fit. The fans are available in green or blue, and each fan blade is UV-reactive. The WING's price may seem a little hig at first glance but the price tag reflects some of the extras you won't get on ther fans, such as the tool-less rubber fan mounts, fan speed control and five-year warranty. Overall, the WING 12 looks to be a quality, long-lasting purchase."

July / 2009: Overclockersclub.com

"The Wing 12 operated very quietly and put up comparable numbers. The Wing 12 was a real winner performing second best to the Delta very quietly. The durability and performance combined with dust proof and water proof qualities of the Wing 12 are also great features to see come together in a fan that also looks good. The Wing series seems like a true winner and operates very quietly and the five-year warranty is an added bonus that makes GELID Solutions fans a good choice."

"GELID Solutions Wing 12使用高階的可拆式磁浮軸承設計,它採用流行螢光UV物料,能配合改裝機箱的燈光裝飾,加上長達5年保養期,乃是次測試產品之冠。"

"GELID Solutions WING 風扇採用獨特的專利 Nanoflux 軸承,具備極低的磨擦力,從而增加風扇壽命。另外扇葉採用特殊機翼式設計,可減少轉動時的風切聲,同時還可以增加風量與風壓,扇葉還備有可拆式功能,讓用 戶在清潔時更方便。16.5/ 20"

"The GELID Wing 12 case fan is, in a word, spectacular. The tech is impressive, the quality is excellent, and the temps and silence improve the package even more. They were able to keep my scorching Q6600 under 60°C at all times, a feat not achieved by many, and did so with nary a peep. I am wonderfully impressed by these fans and will gladly give them the Icrontic Golden Fedora for their excellence in design and performance."


January / 2009: Futurelooks.com

"GELID keeps impressing us with the products they are putting out. The Wing 12 120mm case is no different. This product manages to live up to easily live up to the claims made by GELID. The construction of the fan is of a premium quality, with well though out and implemented features. The included accessories pretty well cover exactly what you'd want from a cooling fan. The Wing 12 case fans may not be the absolute best fans in terms of raw performance, but when it comes to balancing performance and annoyance they are head and shoulders above many other fans out there. GELID has managed to bundle these high performing fans with a package of components that make this a great addition to any performance system you are looking to silence."

December / 2008: Chewontech.com

"With nice UV reactive green fan blades, the WING fans would be a nice fit for any gamer's cooling needs. The new product from GELID Solutions also features blue fan blades. With so many great products in their line up, I cannot wait to see more interesting products coming from them."

December / 2008: Fusionmods.com

"Overall, this is a mighty fan for the price, and with the warranty, its very hard to beat. I would recommend this fan to anyone looking for a quiet UV reactive fan that has a nice high CFM. These fans are available in both UV reactive green and blue, and in 3 sizes, 80mm, 92mm, and 120mm."

December / 2008: Overclockersonline.com

"Clearly we have a winner here. The GELID Wing 12 is a fan that performs as solidly as its unique design and construction. The included fan controller is a plus. Even at low fan speeds, the Wing 12 performed well and silently. Rubber mounting posts are included, which greatly simplify installation and make a difference when it comes to isolating noise from the fan."


"GELID GAMER WING 12 Fanı rengi, fiyatı, kalitesi, sessizliği soğutma performansı, kutu içeriğinde gelen tüm RPM fanlarla uyumlu fan kontrolcusü ve ultra yumuşak silikon monte vidaları ile TurkChip Golden Award almayı hak eden gerçekten çok başarılı bir ürün."
---
Share this Product
---
More from this collection