---
WING 8 UV Blue (FN-FW08-20-B)
80mm Gamer Fan
The WING UV Blue case fans are premium quality, UV reactive, ultra- quiet, dust and water proof cooling fans for gaming enthusiasts.This series features an unique bearing with patented design, winglet fans blades and low starting voltage. Only the highest quality materials have been used to manufacture this state-of-the-art cooling fan. Control the fan RPM speed according to your desire using the supplied voltage regulator. To add to the silence fan mounts replace traditional screws and are made of high quality, ultra-soft silicone which stop vibrations from the fan motor from travelling into your PC case.
Nanoflux Bearing (NFB)
Patented Nanoflux bearing incorporates a clever magnetic design, very high precision manufacturing and runs friction-free and operates noiseless. Electromagnetic fields are exploited to keep solid parts from touching. The load is carried by a magnetic field.
a) Key Features of Nanoflux Bearing (NFB)
The Nano-technology composite ensures lowest abrasion and extreme durability (MTTF 100'000 hours). Compared to other Magnetic bearings this technology allows the impeller to be detached and thus the fan blades can be cleaned easily.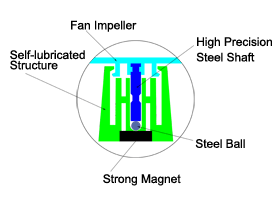 Caption: The material of the Nanoflux bearing is self lubricating and even waterproof.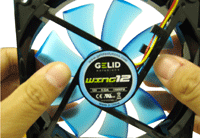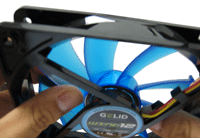 Caption: The fan impeller can be removed from the black fan case by applying gentle pressure.
b) Nanoflux Bearing (NFB) compared to sleeve and ball bearings
Even though conventional sleeve and ball bearings currently dominate the fan market however both have their disadvantages. While sleeve bearings have very low noise emissions and are very cost effective, they tend to leak oil; once the oil has dissipated the fan can no longer operate. Ball bearings, on the other hand, while providing longer operating life are costlier, noisier and are prone to damage.
GELID's Nanoflux bearing uses magnetic flux to limit contact and friction between the bearing and the shaft. High precision self-lubricated material eliminates oil leakage. The result is a ultra quiet long life bearing.
 
Fan Speed Control
The RPM speed of any fan can be controlled from full speed to low speed manually according to desire using this voltage regulator. This product is suitable for all high RPM fans and regulates between 5 and 12V.
 
Rubber Fan Mounts
Vibration from fan motors can travel into a PC case and become amplified when a fan is fitted tightly. This 'vibrational' noise is annoying if you wish to build a very quiet or virtually silent PC.
These rubber mounts have been designed specifically to deal with fan-induced vibrations and are an ideal alternative to standard fan screws, leaving vibrations 100% decoupled from your PC case.
Features
Nanoflux Bearing (NFB)
Optimized Winglet Fan Blades
Waterproof & Dustproof
Long Lifetime (100'000 h MTTF at 40°C)
Silicone Fan Mounts
High quality materials insures long life even at high temperature
Ultra-soft silicone polymer will not break or tear during installation
Universal-Design fits most open chassis fan sizes (80mm,92mm,120mm) and PC cases
Quick & Easy Tool Less Installation
Specifications:
| | |
| --- | --- |
| *INCLUDED: | 4 Fan Mounts,  |
| Air Flow (CFM): | 28.1 |
| Bearing: | Nanoflux Bearing (NFB) |
| Cable Length (mm): | 500 |
| Connector: | 3 Pin Molex |
| Current (A): | 0.1 |
| Dimensions (mm): | 80 x 80 x 25 |
| Fan Speed (RPM): | 2000 |
| Noise Level (dBA): | 10 - 21 |
| Safety Approvals: | CE, RoHS Compliant |
| Static Pressure (mmAq): | 2.05 |
| Voltage (V): | 12 |
| Warranty (years): | 5 |
| Weight (g): | 68 |
Awards:
"Im gegensatz zum Wing 12PL hat GELID Solutions mit dem Wing 12UV Blue die Manko's behoben. Der Wing 12 UV Blue ist ebenfalls ein hochwertiger Lüfter und man kann sogar den Rotor rausnehmen, zum reinigen. ei UV-Licht leuchet der Rotor blau. Die Lautstärke war angenehm und keinesfalls störend. Die im Zubehör bei liegende Lüftersteuerung kann man kinderleicht bedienen."

Februar / 2010: Modding-source.com

"Alles in allem, hat der Wing 12 UV Blue von GELID seht gut abgeschlossen und ist optisch gesehen extrem gut. Auch Gummibolzen sowohl auch Montageschrauben die den Lüfter im Tower halten, waren mit dabei. Zudem war auch ein Regler mit im Karton dabei, womit man den Lüfter leicht und bequem regeln konnte. Abgesehen von der Lautstärke des Lüfters, macht der Lüfter aber einen sehr guten Luftdurchsatz und leuchtet unter UV-Licht. Wer also einen Lüfter sucht der optisch und einen guten Luftdurchsatz macht, sollte definitiv den Wing 12 UV Blue von GELID Solutions kaufen!"

"Der zweite Proband aus dem Hause GELID Solutions, präsentiert sich hervorragend. Der Lieferumfang ist sehr gut und enthält alles um den Wing 12 UV Blue zu entkoppeln und bei Bedarf in der Spannung zu drosseln. Ebenfalls konnten die Geräuschcharakteristik und das Spannungsspektrum vollends überzeugen, denn kein anderer Lüfter schaffte es unter zwei Volt zuverlässig zu laufen. Nichts desto trotz bietet GELID Solutions mit dem Wing 12 UV Blue ein in sich stimmiges Gesamtpaket, welches mit reichhaltigen Features punkten kann. Der Kaufpreis von knapp zehn Euro ist mehr als gut angelegt."

"Wing 12 UV Blue fan için belirlenen fiyat 12 Euro. UV Blue kanatlarıyla bizlere Nanoxia fanları anımsatmadı değil. Hava akımı yüksek ve kutudan çıkan kontrolcü sayesinde istenen gürültü / hava dengesi kurulabiliyor. Suya ve toza dayanıklılık, kolayca temizlenme gibi avantajları var. Eksiksiz kutu içeriği, performansı ve 5 yıl garantisiyle beğeni topluyor."

"Für 13,99€ wird der Lüfter bei Aquatuning angeboten. Und er ist jeden Cent wert! Schon alleine die Lüftersteuerung macht diesen Lüfter fast einzigartig. Der Lüfter ist angenehm leise und sieht gut aus. Was will man mehr? Für seine optisch ansprechende Aufmachung und der inklusiven Lüftersteuerung bekommt der Lüfter von uns den Award für Design."

September / 2009: Tech-xtreme.com

"The Wing 12 has proved to be a great fan for gamers with its unique 'Winglet Blades', 'Fan Speed Control' and it's 'Silent Operation'. Also, reducing the system temperature by one degree for idle and two degrees for load compared with the Silent 12 proves that the Wing 12 UV Blue is a great choice of fan for any gamer who wants some decent cooling applied to his system. The Wing 12 UV Blue  costs around £9-£10 which for a fan is a little on the more expensive side but it comes with a great fan controller, it is a great fan and is definitely worth a try. Definitely a great fan and with the added Fan Speed Controller, it's great for all the gamers out there who, after gaming, want to turn the fan down a bit so they can carry on with normal activities.The Wing 12 UV Blue costs around £9-£10 which for a fan is a little on the more expensive side but it comes with a great fan controller, it is a great fan and is definitely worth a try."

August / 2009: Coolingtechnique.com

"La Wing 12 si è dimostrata una ventola di tutto rispetto, offre performance,versatilità e comodità tutto in un unico prodotto. Il potenziometro fornito di serie consente la regolazione secondo le proprie esigenze, anche se il settaggio dei vari volts non è preciso, esso consente all'utente fnale di poter trovare il proprio rapporto db(A)/cfm in base ai propri gusti ed al luogo in cui il prodotto andrà ad operare. La wing 12 viene commercializzata ad un prezzo di circa 16.00€ iva inclusa. Sommando i pro ed i contro dare un "verdetto" sul prodotto non è cosi semplice,tenendo però conto della giovane età dell'azienda e  delle prestazioni simili sino a 8volts,per poi essere superiori, ad una s-flex dal costo pressapoco identico diamo un'ulteriore award d'oro alla GELID solutions."

July / 2009: Computer Power User

"If you are looking for a 120mm case fan to cool your components, GELID Solutions WING series may be tour perfect fit. The fans are available in green or blue, and each fan blade is UV-reactive. The WING's price may seem a little hig at first glance but the price tag reflects some of the extras you won't get on ther fans, such as the tool-less rubber fan mounts, fan speed control and five-year warranty. Overall, the WING 12 looks to be a quality, long-lasting purchase."

"The WING 12 UV Blue has a very solid design with thick plastic and can be taken apart very easily. Being UV reactive is old hat, but self-lubing and easy dis-assembly is pretty impressive.It does a few cool things. Installs in no time with rubber fan mounts. Wires are nice and long and fan controller is easily tucked away. Comes with a complete kit: silencer, UV fan, and rubber mounts, which makes it a better value. About the same price as other quality fan kits.Final Verdict 4 of 5."

July / 2009: Overclockersclub.com

"The Wing 12 operated very quietly and put up comparable numbers. The Wing 12 was a real winner performing second best to the Delta very quietly. The durability and performance combined with dust proof and water proof qualities of the Wing 12 are also great features to see come together in a fan that also looks good. The Wing series seems like a true winner and operates very quietly and the five-year warranty is an added bonus that makes GELID Solutions fans a good choice."

"Einige Modelle haben sich hier aber aus der Maße herausgehoben und darunter auch der GELID Solutions Wing 12 UV Blue, der den Preis als "Leise und Leistungsstark" bekommen hat." 

June / 2009: Channelpartner.de

"Der GELID Solutions Wing 12 UV Blue ist ein brauchbarer, leise laufender Gehäuselüfter zu einem vernünftigen Preis. Die besondere Optik macht ihn auch für Case-Modder interessant, die ja manchmal auch bereit sind, ein wenig mehr Geld für die Optik auszugeben."

"Im Bereich der "Gehäuselüfter" konnte sich der "Gelid Solutions Wing UV Blue" von seinen Mitstreitern klar absetzen.Er ließ unser Messthermometer bei hoher Drehzahl auf "21,6 °C" schwinden. Auch der Einbau des Wing UV Blue verlief problemlos. Durch die mitgelieferten Entoppler hat der Lüfter bei niedriger Drehzahl ein fast Geräuschloses Laufverhalten. Die im Lieferumfang enthaltenen Lüfterentoppler können auch bei hartnäckiger Anwenden stand halten.Man kann sie also problemlos mit einer Zange durch die Gehäuse bzw. Lüftermontagelöcher ziehen. Wir können jeden Gamer oder Silent User diesen Lüfter bestens Empfehlen. Wir verleihen den Testsieger in der Kategorie "Gehäuselüfter" den Goldenen Award. "


"E rövid cikk végére érve azt kell mondanom, hogy a GELID termékek pozitív értelemben okoztak meglepetést. Komoly, valóban igényes darabokkal találkoztam. A felturbózott siklócsapágy és a hagyományostól kissé eltérő folyadékos megoldás mind a két ventilátor típusnak jót tett. A termékeket így az első próba alapján mindenképpen az ajánlott kategóriába sorolom. Persze a puding próbája az evés, a ventilátoroké pedig a tartós használat, így arról ennyi idő után nem tudok nyilatkozni, hogy a csapágyazás mennyire fogja az idő próbáját kiállni. Az azonban mindenképpen biztató, hogy a drágább ventilátorokon és a processzorhűtőn öt év garanciát jelölt a gyártó."

"Wer einen leisen aber starken Lüfter sucht ist bei den Gelid Solutions Wing 12 UV Blue genau richtig.Mit seinen 1500U/min sorgt er für einen kühlen aber leisen Luftstrom im Gehäuse.Sogar Modder dürfen sich über diesen Lüfter freuen.Der Wing 12 ist UV aktiv und leuchtet beim Einsatz einer UV Leuchtstoffröhre.Gelid Solutions konnte uns mit diesen Lüfter vollkommen überzeugen."

"GELID Solutions Wing 12使用高階的可拆式磁浮軸承設計,它採用流行螢光UV物料,能配合改裝機箱的燈光裝飾,加上長達5年保養期,乃是次測試產品之冠。"

"GELID Solutions WING 風扇採用獨特的專利 Nanoflux 軸承,具備極低的磨擦力,從而增加風扇壽命。另外扇葉採用特殊機翼式設計,可減少轉動時的風切聲,同時還可以增加風量與風壓,扇葉還備有可拆式功能,讓用 戶在清潔時更方便。16.5/ 20"

"Both fans are very recommendable and perform no short of what is expected. What really amazed me is how silent both fans were compared to other fans from competitor companies. The GC1 Thermal Compound performed brilliantly as well seeing nearly a temperature drop of nearly two degrees under high load which is quite impressive. GELID Solutions are doing really well, hopefully they will continue to provide consumers with high quality products in the future as well. The attention to detail, quality and aesthetics was noted as both fans look brilliant and as such are very recommended to those who have a transparent side panel. Furthermore, the UV Blue Wing is a joy to behold especially when used with a UV light. It simply looks brilliant."

April / 2009: Italiamodding.it

"GELID Solution ci ha permesso di recensire un ottimo prodotto, il rapporto qualita'/ prestazioni/ prezzo e' molto interessante, certamente entrera' nei case di molti di noi, ne ha le carte in regola, l'intera confezione comprende tutto il necessario per montarla con estrema semplicita' all' interno del computer, il sistema di fissaggio ci permette di fare tutto a mani nude, il controller ci permette di controllarla in modo da avere il giusto compromesso tra rumore e prestazioni, ed il prezzo, circa 11€, certamente in mercato ne troviamo di piu' economiche, ma di questo livello non ne troviamo affatto."

"GELID Solutions WING 12 UV Blue – красивый, стильный, эффективный вентилятор с довольно богатой комплектацией. Вполне подходит для охлаждения очень тихих дорогих корпусов. Нужный рынку, продукт, который обретет свою аудиторию. Отсутствие подсветки будет плюсом для тех, кто не любит, когда корпус в ночи сияет как ёлка. Чувствительность к ультрафиолетовым лампам порадует любителей моддинга. Цена – высока, но соответствует качеству."

"Le GELID Solutions Wing 12 UV Blue est vendu dans une boîte en carton, sur le devant on peut y voir une partie du ventilateur ainsi qu'une partie du Bundle et des caractéristiques techniques. Au dos de la boite on retrouve toutes les caractéristiques du ventilateur. Le Bundle est extrément complet il contient : Un Réhobus pour réguler la vitesse du ventilateur, deux bandes de papier adésif pour fixer le réhobus où on le souhaite, 4 fixations anti-vibration ainsi qu'un autocollant Gelid. Un Gros point positif pour ce bundle. Le cadre du ventilateur est noir et ses pales bleus, il est à noter que l'on peut enlever les pales pour pouvoir les nettoyer."
---
Share this Product
---
More from this collection