GELID SOLUTIONS
GELID SOLUTIONS Silent 8 PWM 80mm Case Fan with Intelligent PWM Control (FN-FX08-20)
---
Silent 8 PWM (FN-PX08-20) 
80mm Case Fan with Intelligent PWM control
Designed for advanced users GELID Silent PWM fans provide additional airflow by using Pulse Width Modulation (PWM) to automatically adjust fan speed according to the CPU load. The fan can be idled down and thus be much quieter.  An intelligent IC had been integrated into the fan's PCB to exploit your mainboard's BIOS software. This technology is more efficient and convenient than using an external fan controller to adjust the voltage.
Each fan impeller has been individually balanced using the latest technology to guarantee steady, unwavering operation. To add to the silence fan mounts replace traditional screws and are made of high quality, temperature resistant, extra long lasting rubber and stop vibrations from the fan motor from traveling into your PC case.
How does PWM work?
Pulse-width modulation (PWM) delivers a digital signal. The advantages of using a digital PWM signal compared to an analogue controller are:
- PWM control calculates the appropriate cooling performance according to CPU and System temperature     - PWM control of your mainboard will always adjust to the correct cooling
- PWM control operates without generating any heat
The Intelligent GELID PWM Curve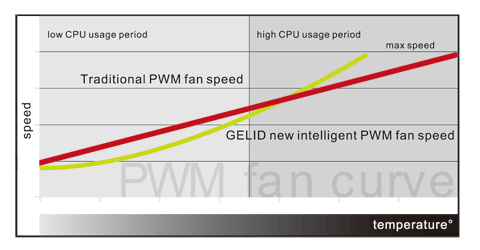 Caption: The intelligent GELID PWM Curve is more effecient than the traditional red curve of other PWM fans.
Features:
Pulse Width Modulation  (PWM)
Silent Operation w/ Rubber Fan Mounts
Optimized Fan Blades
High Airflow & High Static Pressure
Long Lifetime (50'000 h MTTF at 40°C)
5 Years Warranty
Specifications:
| | |
| --- | --- |
| *INCLUDED: | 4 Rubber Fan Mounts |
| Air Flow (CFM): | 27 |
| Bearing: | Hydro Dynamic Bearing |
| Cable Length (mm): | 500 |
| Connector: | 4 Pin |
| Current (A): | 0.13 |
| Dimensions (mm): | 80 x 80 x 25 |
| Fan Speed (RPM): | 900 - 2000 |
| Noise Level (dBA): | 10 - 21.5 |
| Safety Approvals: | CE, RoHS Compliant |
| Static Pressure (mmAq): | 1.65 |
| Voltage (V): | 12 |
| Warranty (years): | 5 |
| Weight (g): | 68 |
Awards:
July / 2009: Hardware Magazine

"Nous avons particulièrement apprécié ces produits dont la qualité de fabrication ne souffre d'aucun défaut et qui présentent un rapport performances/bruit parmi les meilleurs. Pour ne rien gâcher, ils sont livrés de série avec des supports de fixation en caoutchouc. Les produits GELID Solutions sont, enfin, très abordables, à peine 5 euros les modèles de 120 mm ! En sus des gammes normales et autorégulées par PWM, GELID Solutions propose une variante autorégulée par une sonde de température de ses ventilateurs."

Juli / 2009: Hard-aber-ware.de

"Zum Schluss nun noch das Fazit zum Silent 12 PWM. Er sieht schlicht aus, die Leistung in Relation zur Lautstärke könnte besser sein über 10V. Unter 10V stimmt das Verhältnis von Luftfördermenge und Lautstärke. Die intelligente PWM-Steuerung, welche Nicht-Linear verläuft, empfinden wir als nicht so ideal, da sich so keine endültige Lüftergeschwindigkeit erreichen lässt. Somit gibt es für den 7,00€ UVP teuren Lüfter den Bronzeaward."

July / 2009: Overclockersclub.com

"Silent 12 PWM performed very well and operated very quietly and put up comparable numbers. The Silent series did pretty good operates very quietly and the five-year warranty is an added bonus that makes GELID Solutions fans a good choice."
 

"E rövid cikk végére érve azt kell mondanom, hogy a GELID termékek pozitív értelemben okoztak meglepetést. Komoly, valóban igényes darabokkal találkoztam. A felturbózott siklócsapágy és a hagyományostól kissé eltérő folyadékos megoldás mind a két ventilátor típusnak jót tett. A termékeket így az első próba alapján mindenképpen az ajánlott kategóriába sorolom. Persze a puding próbája az evés, a ventilátoroké pedig a tartós használat, így arról ennyi idő után nem tudok nyilatkozni, hogy a csapágyazás mennyire fogja az idő próbáját kiállni. Az azonban mindenképpen biztató, hogy a drágább ventilátorokon és a processzorhűtőn öt év garanciát jelölt a gyártó."

"Both fans are very recommendable and perform no short of what is expected. What really amazed me is how silent both fans were compared to other fans from competitor companies. The GC1 Thermal Compound performed brilliantly as well seeing nearly a temperature drop of nearly two degrees under high load which is quite impressive. GELID Solutions are doing really well, hopefully they will continue to provide consumers with high quality products in the future as well. The attention to detail, quality and aesthetics was noted as both fans look brilliant and as such are very recommended to those who have a transparent side panel. Furthermore, the UV Blue Wing is a joy to behold especially when used with a UV light. It simply looks brilliant."

"Le GELID Solutions Silent 12 PWM est vendu dans une boite blanche en carton refermable, on peut apercevoir une partie du ventilateur ainsi que la mention PWM. Contrairement au GELID Solutions Wing 12 UV Blue le GELID Solutions Silent 12 PWM intégre un très legé bundle qui se compose de 4 fixations anti-vibrations et un autocollant GELID Solutions. Le cadre du ventilateur est noir et ses pales blanches, on notera également la présence d'un cable d'une bonne longueur."
 

"Wentylator GELID Solutions Silent 12 PWM jest idealnym rozwiązaniem dla osób chcących kupić dobry i cichy wentylator z możliwością sterowania obrotami za pośrednictwem płyty głównej. Zastosowane gumowe kołeczki umożliwiają amortyzowanie drgań wentylatora na obudowie."

"GELID Solutions hat mit dem Silent 12 PWm einen guten Lüfter, der vor allen dingen mit einem sehr guten Preis von gerade einmal 7,00€ ( stand 02.2009 ) überzeugen kann. Aber auch die Laufruhe und der Lieferumfang sprechen für sich. Bei niedriger Drehzahl ist der Silent 12 PWM nicht zu hören, bietet aber einen guten Luftdurchsatz. Bei voller Leistung ist er zwar hörbar aber immer noch einer der leiseren Lüfter auf dem Markt. Für die gebotene Leistung und die Qualität bei der Verarbeitung bekommt der GELID Solutions Silent 12 PWM von uns den Goldaward."

March / 2009: Hardwarehaust.es

"Con el SILENT 12 PWM, de nuevo GELID Solutions ha conseguido sorprenderos gratamente, ya que es muy complejo intentar conseguir aunar silencio y rendimiento en un único producto, acercándonos además el control dinámico mediante la tecnología de control PWM a nuestros equipos. En base a los resultados obtenidos en nuestro banco de pruebas, el SILENT 12 PWM se presenta como una propuesta con una emisión acústica muy contenida, con una amplio rango de trabajo, un caudal generoso y un período de garantía de 5 años, que nos aseguran un funcionamiento fiable a largo plazo. Todo ello por un precio muy contenido, que lo convertirán en un rival muy serio a tener en cuenta para sus competidores más cercanos."

"For a first try i must admit that GELID did well in terms of quality and looks, their bundle is also adequate with four rubber anti-vibration mountings and a sticker. GELID fans also feature an intelligent PWM curve which makes their fans more efficient when using them with PWM. Price wise GELID kept them quite low and for that amount of money they are a truly a catch for everyone that does not care about noise."
---
Share this Product
---
More from this collection