---
WING 12 PL (FN-FW12BPL-18)
Silent 120mm PWM Fan with LED
The WING 12 PL features a unique Nanoflux bearing which ensures a friction-free and silent operation. Thanks to the clever design and magnetic bearing the impeller can be detached for an easy cleaning. Additionally fan blade winglets were designed to achieve larger airflow and greater static pressure. Thank to GELID's Nanoflux Bearing the impeller can be detached and the fan blades can be cleaned easily.

a) Key Features of Nanoflux Bearing (NFB)
The Nano-technology composite ensures lowest abrasion and extreme durability (MTTF 100'000 hours). Compared to other Magnetic bearings this technology allows the impeller to be detached and thus the fan blades can be cleaned easily.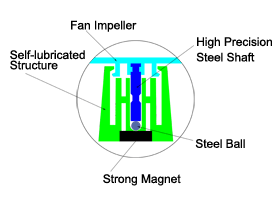 Caption: The material of the Nanoflux bearing is self lubricating

b) Nanoflux Bearing (NFB) compared to sleeve and ball bearings
Even though conventional sleeve and ball bearings currently dominate the fan market however both have their disadvantages. While sleeve bearings have very low noise emissions and are very cost effective, they tend to leak oil; once the oil has dissipated the fan can no longer operate. Ball bearings, on the other hand, while providing longer operating life are costlier, noisier and are prone to damage.
GELID's Nanoflux bearing uses magnetic flux to limit contact and friction between the bearing and the shaft. High precision self-lubricated material eliminates oil leakage. The result is a ultra quiet long life bearing.

PWM Control & LED Light

Both models include a PWM Control which keeps the fan silent if no additional cooling is necessary but increases the fan speed whenever additional cooling is required. To give the fans a unique color, a blue LED light is embedded into the 120mm blue WING 12 PL fan.
Features
Nanoflux Bearing (NFB)            
Optimized Winglet Fan Blades        
PWM Control              
LED Light
Detachable Impeller
Long Lifetime (100'000 h MTTF at 40°C)
Specifications:
| | |
| --- | --- |
| Air Flow (CFM): | 75.6 |
| Bearing: | Nanoflux Bearing (NFB) |
| Cable Length (mm): | 500 |
| Connector: | 4 Pin Molex |
| Current (A): | 0.45 |
| DC Voltage (V): | 12 |
| Dimensions (mm): | 120 x 120 x 25 |
| Fan Speed (RPM): | 600 - 1800 |
| LED Color: | BLUE |
| Noise Level (dBA): | 10 - 26.8 |
| Static Pressure (mmAq): | 2.66 |
| Warranty (years): | 3 |
| Weight (g): | 120 |
Awards:
"As you can see, Gelid's fan did very well in our tests. It delivered a massive amount of air while keeping noise down to low levels. Even at maximum RPM, the fan was barely audible. Note that all tests were done with direct connection to the PSU, so no PWM was utilised. In combination with the PWM mode, the fan will be practically silent. Another point to consider is the utilisation of advanced Nanoflux bearing which surely adds points to the fan's overall presence. Overall, Gelid has offered a very capable fan at a reasonable price which achieves great performance with quiet operation and we see no reason not to prefer it against other fans out in the market."
 

"Eccoci giunti al termine di questa recensione, ed è ora di tirare le fila dell' articolo, ma prima è nostra intenzione fare una precisazione. Progettare una ventola silenziosa e performante in qualsiasi condizione di utilizzo non è una cosa facilmente realizzabile, oseremo dire che è addirittura impossibile. Una ventola performante su un dissipatore o su un radiatore, infatti, è difficilmente molto silenziosa, poichè per garantire ottime prestazioni deve avere un elevato valore di pressione statica e di quantità d' aria spostata. La stessa cosa, ma al contrario, accade se siamo in cerca di una ventola silenziosa, poichè solitamente queste, per ridurre al minimo le emissioni acustiche, tendono a penalizzare le prestazioni assolute. Per questo motivo una ventola per essere considerata valida deve essere analizzata in base alla tipologia di utilizzo che se ne andrà a fare, ed è assolutamente sbagliato penalizzare un prodotto piuttosto che un altro perchè magari tende ad essere meno performante in certi scenari. La Wing dimostra di essere un buon compromesso fra le varie scelte, restituendo buone performance ma riuscendo a contenere il rumore prodotto all'interno di valori accettabili. Il prezzo del prodotto è pari a 13 € ed è sicuramente non basso, però dobbiamo anche considerare come gli unici competitors siano a un prezzo pari o addirittura superiore alla proposta presa in esame."
---
Share this Product
---
More from this collection